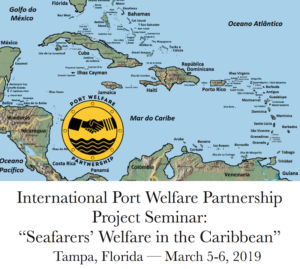 Introduction: With the support of the International Port Welfare Partnership (IPWP) project (portwelfare.org), this seminar will bring together those interested in seafarers' welfare in the Caribbean area. The IPWP is a project by ISWAN and the UK Merchant Navy Welfare Board to encourage and support the establishment of welfare boards and port welfare committees worldwide, in accordance with ILO MLC, 2006. These committees provide the forum for maritime organisations to regularly meet and support port welfare services and facilities in improving seafarers' lives. This IPWP 2-day seminar will be hosted in North America by NAMMA and will be in Tampa, Florida, March 5-6. Representatives of industry, labor, government, the media, and welfare providers from ports in the Caribbean, Bermuda, and nearby United States are all welcome. The goals of the seminar will be to strengthen partnerships for port-based welfare service, share best practice, and plant the seeds for additional work for seafarers' welfare in the future.  It will be an ideal location to meet other individuals and organizations that are working or wish to work in the Caribbean and surrounding area.

Location: Tampa, Florida, United States
Hotel and Conference center: The Barrymore Hotel Tampa Riverwalk, 111 West Fortune Street, Tampa, Fl 33602.  Rate: $135USD/night + tax. Parking: $5/day. Free breakfast. Free shuttle bus to Tampa airport. CLICK HERE to reserve hotel.
Registration costs: $75USD (includes program, coffee breaks, dinner March 5, and lunch March 6). CLICK HERE to register and pay the registration fee.
Financial support: We are happy to announce that through the generosity of the IPWP project and the TK Foundation, we are able to offer a limited number of bursaries to help cover the costs:
$500 bursary – Registration costs or any combination of hotel or travel costs (available to guests from Caribbean islands or Bermuda only)
$250 bursary – Registration costs and any combination of hotel or travel costs (available to guests from Caribbean islands, Bermuda, US mainland and any other international partner working in seafarers' wellbeing)
Bursaries will be paid by NAMMA treasurer at or after the seminar upon presentation of relevant receipts. To apply for a bursary or for any other questions, please write to executivedirector@namma.org.
Schedule:
March 5
(optional – 10 a.m. – excursion to Tampa Seafarers' Center)
11:30 a.m. – 1 p.m. – Arrival and Seminar Registration
1 p.m. – Start of Seminar
1 p.m. – Seminar Introduction – Jason Zuidema, Steve Finnesy
1:10 p.m. – Welcome – John T. Thorington, Jr. – Vice President of Government Affairs and Board Coordination, Port Tampa
1:20 p.m. – 2:45 p.m. – Session 1 – Setting Up and Managing a Port Welfare Committee
Introduction – Roger Harris, ISWAN and chair IPWP executive committee
Sharon Coveney/Rebecca Stalker/Peter Tomlin, Merchant Navy Welfare Board
Presentation of Port Welfare Committee training video (produced by NAMMA and funded by the IPWP project in association with ISWAN, MNWB, ICMA, and the Southern Port Welfare Committee (UK)
Small group discussion on Port Welfare Committees and local port partnerships
2:45 – 3:15 p.m. – Coffee break
3:15 – 5 p.m. – Session 2 – Using New Technology to organize port-based welfare provision
Introduction: Jason Zuidema
Peter Tomlin, MNWB, using the IPWP database and app to empower port welfare committees
(optional – 5 p.m. Excursion to Tampa Seafarers' Center)
7:30 p.m. – Dinner (provided with registration)
March 6
(7:00 a.m. – Ecumenical prayer for Ash Wednesday – Rev. Marsh Drege)
9 a.m. – 10:15 a.m. – Session 3 – Port-Based Seafarers' Welfare Provision in the Caribbean: Resources and Challenges
Jason Zuidema, "Seafarers' Welfare in the Caribbean"
Sharon Joubert (Seafarers' House, San Juan, Puerto Rico)
Roger Harris, "Results from Superyacht Crew Welfare report"
Rev. Canon Andrew Wright (The Mission to Seafarers)
10:15 – 10:45 – Coffee break
10:45 a.m. – 12:00 p.m. – Session 4 – Partnerships to benefit seafarers' welfare in the Caribbean
Vice Admiral Brian Salerno (ret.), Senior Vice President, Maritime Policy, CLIA
CDR Anthony R. Migliorini, Prevention Department Head, United States Coast Guard Sector St. Petersburg, Florida
Tony Sasso, ITF Inspector
12 p.m. – Lunch (provided with registration)
1 p.m. – End of Seminar
Confirmed Presence:
Rev. Marsh Drege, Seafarers International House, New York, NY
Lesley Warrick, Seafarers' House, Ft Lauderdale
Roger Harris, ISWAN, Croyden, UK
Sharon Emerson, Corpus Christi International Seamen's Center, Corpus Christi, TX
Lilliam Alvarado, Seafarers' House, San Juan, Puerto Rico
Sharon Joubert, Seafarers' House, San Juan, Puerto Rico
Stuart Rivers, Sailors' Society, Southampton, UK
Rebecca Stalker, Merchant Navy Welfare Board, Southampton, UK
Peter Tomlin, Merchant Navy Welfare Board, Southampton, UK
Sharon Coveney, Merchant Navy Welfare Board, Southampton, UK
Douglas Stevenson, Center for Seafarers' Rights, SCI NY/NY
Rev. Canon Andrew Wright, The Mission to Seafarers, London, UK
Cdr Anthony R. Migliorini, Prevention Department Head, USCG Sector St. Petersburg
Dr. Jason Zuidema, NAMMA/ICMA
Steve Finnesy, Tampa Seafarers' Center
Fr. Bruno Ciceri, Apostolatus Maris, The Vatican
Fr. Lito Capeding, Apostleship of the Sea, Mobile, AL
Deacon John Archer, Apostleship of the Sea, Mobile, AL
Ilya Cherapau, Bermuda Sailors Home
Monroe Fauntleroy, Tampa Port Ministries
Chuck Dewing, Tampa Port Ministries
Joan Dewing, Tampa Port Ministries
Faith Steinmeyer, Tampa Port Ministries
Capt. Bernt Koning, Rotterdam, NL
Deacon Paul Rosenblum, Charleston AOS
Vice Admiral Brian Salerno, USCG (ret.), Vice President, Cruise Lines International Association (CLIA)
Denis Côté, Saguenay, QC
Tony Sasso, International Transport Workers' Federation (ITF)
Fr. Sanford Sears, Seafarers' House, Ft. Lauderdale
Anmati Sukhan, Seafarers' House, Ft. Lauderdale
Rev. Stephen Cushing, New England Seafarers' Ministry, Boston, MA
Sharon Cushing, New England Seafarers' Ministry, Boston, MA
Trish Alligood, Anchor House, Port Manatee, FL
Josh Palmer , Canaveral Port Ministry, Canaveral, Florida
Media: Taylor Dolven, Miami Herald
Rev. Eric Phinney, Saint John Seafarers Mission
Val Phinney, Saint John Seafarers Mission
Richard Grimball, Charleston Port & Seafarers Society