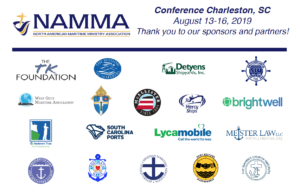 In 2019, the Annual Conference of NAMMA was in Charleston, SC from August 13-16. Held at the Charleston Marriott in Charleston, SC, this event attracted industry professionals, maritime welfare agencies, their chaplains, and volunteers in the United States, Canada and the Caribbean. The conference provided networking, discussion of important maritime issues, and training.  This year's conference explored the theme of Connectivity and Connectedness with seafarers and with each other.

Conference Schedule
For photos of the conference, please view our Facebook page.
The Conference introduction video is here.
Tuesday, August 13
– Opening worship at Grace Church Cathedral
Wednesday, August 14
Session 1 – Connecting with Industry and Labor
– Mark Lester, Information Security, Manager, South Carolina State Port Authority
– Capt. William (Bill) DuTour – (ret.) Maersk Lines
– Corey Connor, ITF Inspector, Charleston
Session 2 – Connecting with Government and Regulatory
– Cmdr. Kevin Beck, Prevention Department Head, US Coast Guard Sector Charleston (powerpoint slides)
– Elisabeth Bertrand, A/Executive Director, Marine Personnel Certification and Standards, Transport Canada / Government of Canada, Marine Safety & Security (powerpoint slides)
Session 3 – Keynote speaker: Protection in a Connected World
Speaker – Frank Abagnale – "Catch Me If You Can" (Video)
Session 4 – Workshops
Workshop: Keys to Connecting with Seafarers – Panelists – Rev. Gary Roosma (Ministry to Seafarers, Vancouver), Rev. David Reid (SCI Philadelphia), Ken Hawkins (Seattle), Jeanie Wodka (Canaveral)
Workshop: Fundraising for Seafarers' Ministry
Workshop leader – Jennifer Koenig Breen, Director of Development, The Seamen's Church Institute, New York (powerpoint slides)
Thursday, August 15
Session 5 – Connecting for seafarers' wellbeing
– Hal Ramakers, Brightwell payments, "The cost of disconnection: seafarers' financial health" (powerpoint slides)
– Tonya Meister, Meister Law, LLC, "Key challenges in Seafarers' advocacy" (powerpoint slides)
– Kevin Walker, NAMMA, "Insurance needs for seafarers' welfare providers: results from a NAMMA survey" (powerpoint slides)
Session 6 – Keynote presentation
– Lincoln Paine – Historian and author, The Sea & Civilization – "Connections and Disconnections in Maritime History" (powerpoint slides)
Session 7 – Workshops
Workshop: Building training resources to connect with Seafarers
Introduction and Moderator – Dr. Jason Zuidema (maretraining.com)
Presentation of MareTraining and group workshop on training
Workshop: Fundraising for Seafarers' Ministry – "Planning a fundraising event"
Workshop leader – Jennifer Koenig Breen, Director of Development, The Seamen's Church Institute, New York (powerpoint slides)
Evening – Special Entertainment
Friday, August 16
Session 9 -Connecting with each other for the benefit of seafarers' welfare – Auditorium
–  welcome – Barbara Melvin, South Carolina State Ports Authority
– Rev. Christoph Ernst, Secretary General, Deutsche Seemannsmission and trustee, ICMA, "Connecting our national and international networks for the benefit of seafarers" (video)
– Rev. Bill Rex, Seafarers' International House, Philadelphia, "Experiencing the US Coast Guard Auxiliary chaplain program" (powerpoint slides)
– Fr. Andrew Thuraisingam (AOS Canada), "Building capacity of the AoS in Canada" (powerpoint slides)
Conference Ends