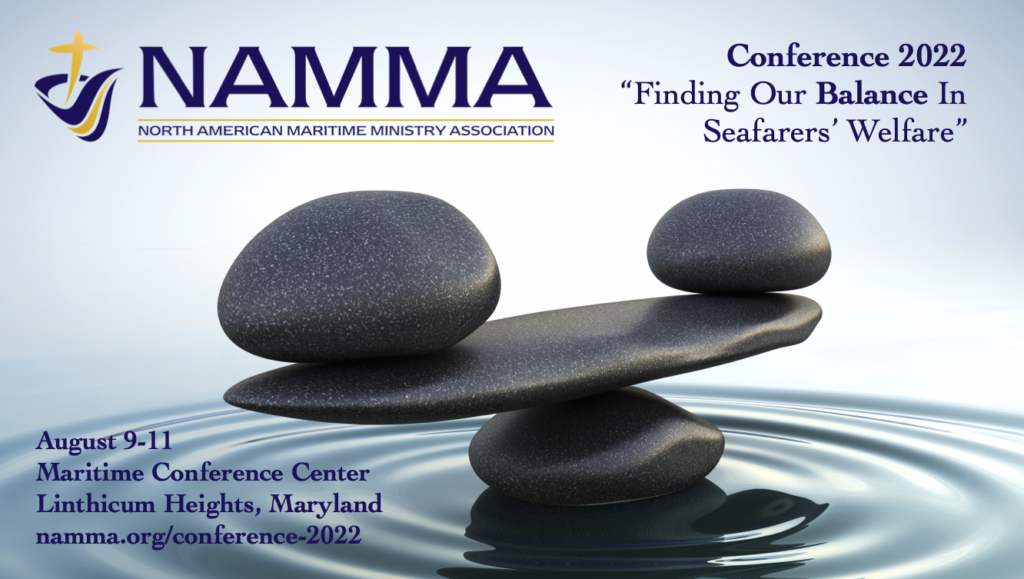 NAMMA Conference 2022 – August 9-11
Theme: Finding our Balance In Seafarers' Welfare
Introduction: The world of shipping has witnessed tremendous instability in the last several years. The worldwide pandemic and supply chain crunch have caused significant disruption for all those working at sea and in port. Seafarers' welfare organizations have needed tremendous agility to respond to each new challenge. NAMMA's 2022 conference will explore how to find balance as seafarers' ministries to serve effectively, but also how to encourage balance in the lives of the seafarers we serve and in our own lives. The conference will welcome more than 100 representatives of local and international seafarers' welfare organizations but is open to all other partners in the wider maritime community.
Venue: Maritime Conference Center at 692 Maritime Blvd, Linthicum Heights, MD 21090, United States.
Travel: Just 5 miles (10 minutes) from Baltimore-Washington International (BWI) Thurgood Marshall Airport and the BWI Amtrak Train Station. MCC is accessible throughout the Mid-Atlantic region via I-95, MD-295, and I-695. Free parking onsite. Please see the Conference Center's website for more.
Hotel: $159USD+tax/night single occupancy and $204USD+tax/double occupancy. Rates include full buffet dinner and breakfast, free Wi-Fi, and free parking. Check-In after 3 PM and Check-Out before 11 a.m. To book your room use this online link or call the Maritime Conference Center at (toll-free) (866) 900-3517 or (direct) (410)-859-5700. (Note: Because of the pandemic, the free MCC shuttle will not be in operation until further notice. If you are flying into BWI or traveling by train to the BWI Amtrak Station, please take a taxi, Uber or Lyft.)
Conference Registration: $349 (NAMMA Member) and $399 (Non-Member) (rates rise by $50 after June 15) (includes program, lunches, breaks from Aug 9-11). Note: Spouses of Members and Researchers/Students can also register at the Member rate).
Sponsors: Exhibitors and sponsors are very welcome. View our sponsorship information package here.
Questions: Contact executivedirector@namma.org.
Speakers (developing)
CAPT Wayne Arguin Jr., Director, Inspection and Compliance at U.S. Coast Guard
David Heindel, Secretary-Treasurer, Seafarers' International Union and Chair, ITF Seafarers' Trust
Kathy Metcalf, President and CEO, Chamber of Shipping of America
The Revd Canon Andrew Wright, Secretary General, The Mission to Seafarers and Chair, International Christian Maritime Association
Deacon Paul Rosenblum, Chaplain, Stella Maris Charleston, Stella Maris Regional Director – North America, President, NAMMA
Phil Schifflin, Director, Center for Mariner Advocacy, Seamen's Church Institute of New York & New Jersey
Representative of University of South Florida College of Nursing and Steve Finnesy, Tampa Port Ministry
Schedule
Tuesday, August 9
Arrival
4:00 – 5:00 PM – Registration booth open
5:15 PM: Formal Conference Opening – Welcome and Introductions
5:30 – 6:30 PM – Dinner
6:30 PM: After Dinner Program – Introduction of conference themes and Opening Worship
Wednesday, August 10
9:00 – 10:15 AM: Session 1 – Auditorium
10:15 – 10:45 AM: Break
10:45 – 12:15 PM: Session 2 – Auditorium
12:15 – 1:30 PM: Lunch
1:30 – 2:30 PM: Session 3 – Auditorium
2:30 – 3:00PM: Break
3:00– 4:15PM: Session 4– Auditorium
4:15 – 4:45 PM: Daily Worship – Room: Auditorium
5:00 – 7:00 PM – Buffet Dinner – Dining Hall
Thursday, August 11
9:00 – 10:30 AM: Session 5 – Daily Announcements – Auditorium
10:30 – 11:00 AM: Break
11:00 AM – 12:00 PM: Session 6 – Auditorium
12:00 – 1:00 PM: Lunch
1:00 – 2:15 PM: Session 7 – Auditorium
2:15 – 2:45 PM: Break
2:45 – 3:15 PM: Daily Worship – Auditorium
3:15 – 4:30 PM: NAMMA AGM – Auditorium
6:30 – 8:00 PM: After Dinner Program – Dining Hall
Friday, August 12
Departure for regular conference guests
[Stella Maris Regional Conference (9 a.m. – 5 p.m.) [Those Stella Maris members interested, please direct any questions you might have to Deacon Paul Rosenblum at paul.rosenblum@stellamarismail.org]
Saturday, August 12
[Stella Maris Regional Conference (8 a.m. – 12 p.m.) [Those Stella Maris members interested, please direct any questions you might have to Deacon Paul Rosenblum at paul.rosenblum@stellamarismail.org]
Conference Planning Committee: Deacon Paul Rosenblum (Charleston), David Clark (Houston), Deacon Dileep Athaide (Vancouver), Rev Cristi Chapman (Seattle), Nereida Kerkado (San Juan), Jason Zuidema (NAMMA)