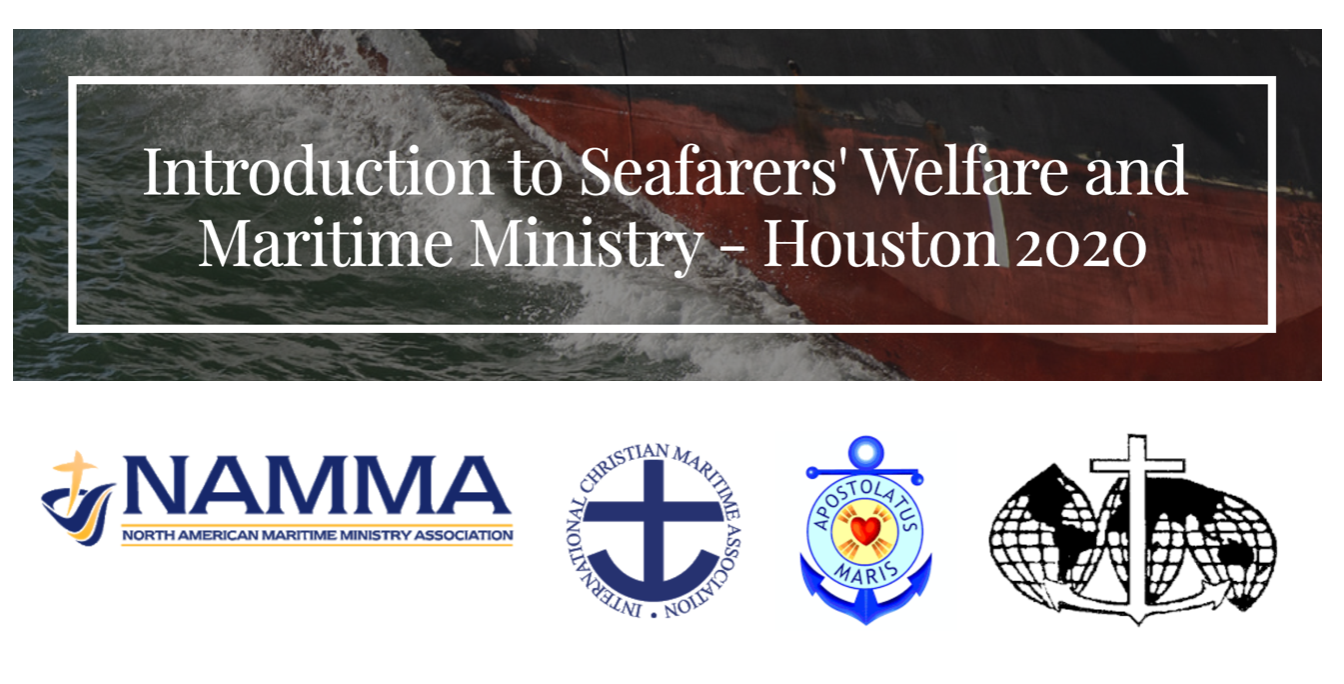 Introduction: Maritime ministries have undergone profound developments in the last generation. Those involved in seafarers' welfare and ministry need to continue to develop professionally to help their work adapt to changing realities. This course gives an overview and discussion of key issues in seafarers' welfare and maritime ministry. The course is designed for new chaplains, ship visitors and volunteers, but should also be useful for those who have experience in maritime ministry, but wish to sharpen their skills.
Course Management and Endorsement: This course is managed by the North American Maritime Ministry Association with the assistance of local hosts, the chaplain committee of the Houston International Seafarers' Center. This course has the endorsement of the Apostleship of the Sea – United States region and mirrors the course given internationally by the International Christian Maritime Association.
Course Director: Dr. Jason Zuidema, Executive Director, NAMMA, jason.zuidema@namma.org
Registration Cost: $500USD (includes full registration fee for online and in-class program at the Houston International Seafarers' Center, 6 nights accommodation at Four Points Sheraton Houston Hobby Hotel (with complimentary breakfast, wifi, parking and shuttle bus to Hobby airport), coffee breaks and lunches Monday-Friday, and dinners on select evenings).
Registration: Click here to register. Once registration is reviewed and accepted by the course director, you will receive an email with an invoice for course fee and instructions for payment.
Dates:
Online posted weekly online (5) – beginning January 2020
In class one week Houston, Texas – February 16 – February 21, 2020 in class
(Optional ship visiting: February 21-22, with chaplains of Houston International Seafarers' Center)
Online after Feb. 22 posted online (1) for all students
Course Locations:
Dedicated course website link sent to students
Webinars (recorded on "Gotomeeting")
In class – Conference room at Houston International Seafarers' Center (High Level Rd) and excursions in Houston, Texas
Course size: 15 students maximum
Accommodation: Four Points Sheraton Houston Hobby Hotel, 8720 Gulf Freeway, Houston, Texas 77017
Transportation: students will be required to book their own air or ground transport to Houston (fly into Hobby airport as there is a free shuttle bus to the Four Points Sheraton hotel). Our local hosts will provide free transportation to our classroom or other activities each day.
Topics and lecturers: Dr. Jason Zuidema and various professors (international and local experts to be announced).
Course overview: The quality of care offered to seafarers is the Association's priority. The training of our frontline providers ensures the achievement and maintenance of uniform standards of care among our members. An understanding of the maritime industry and of the essentially ecumenical make-up of the pastoral care to seafarers is a cornerstone of NAMMA's Introduction to Seafarers' Welfare and Maritime Ministry Course, aka. 'The Houston School'. The Houston School is not intended to replace individual's training by their employing seafarers' centers or organizations, but rather to facilitate a training environment for practical ecumenical and cross-cultural interaction on port ministry which individual societies would typically not be able to provide.
At the heart of our work is communication with seafarers. When our members pursue excellence in communicating with seafarers, they also provide great service. Throughout the years of giving maritime ministry training by the Houston chaplains, we have heard from students and increasingly seen that preparation in how to communicate with team members and seafarers is key for long-term success. Throughout this course, students will be introduced to topics that will allow them to communicate meaningfully with seafarers and supporting communities in order to serve them in a holistic manner.
As this course will be done both online and in class, participants must have the necessary motivation and organization to keep up. However, we note that the participant's own style and his or her denominational and cultural background will play in an important role in shaping how this course will be experienced. Though experts will guide us through the information, we expect to learn much from each other as well.
It is hoped that this Introduction, presented in the early stages of a career in seafarers' welfare, would encourage the retention of frontline welfare providers and that it would inform their entire life's work.
Register here. Once registration is reviewed and accepted by course director, you will receive an email with an invoice for course fee and instructions for payment.