August 1-3, 2023 — Seattle, WA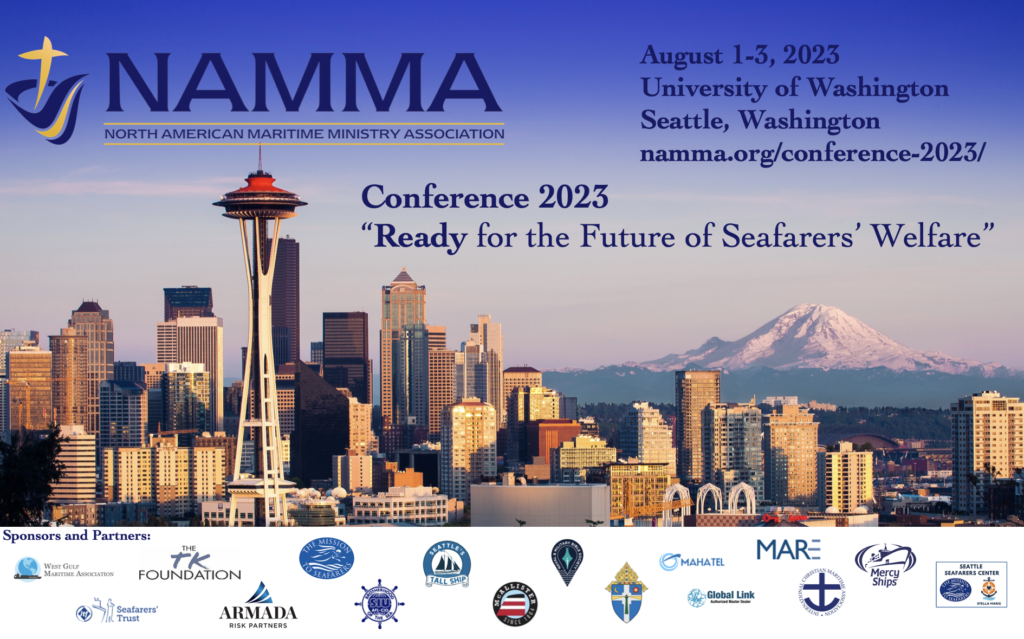 Date: August 1-3 in Seattle, WA
Introduction: Seafarers' welfare organizations have needed tremendous agility to respond to each new challenge. NAMMA's 2023 conference will help seafarers' welfare organizations serve effectively. The conference welcomed more than 100 representatives of local and international seafarers' welfare organizations and other partners.
Conference Venue: University of Washington, Alder Auditorium
Detailed Schedule
Tuesday, Aug 1

Conference Opening and Session 1 – "Ready for the Future of Seafarers' Welfare"
Conference Session 2 – "Ready to Promote Seafarers' Mental Health and Wellness: International Perspectives"

Wednesday, Aug 2

Session 3 -"Semper Paratus: government and port perspectives on readiness for seafarers' welfare"
Session 4 – "Readiness: legal and safety perspectives"
Session 5 – [Alder Auditorium] – "Ready to Respond: Cultivating Partnerships"

Thursday, Aug 3

Introduction – Edward X. McNamara (Armada Risk Partners) – (video)
Session 7 – "Ready for future chaplains, staff, and volunteers"
Session 8
Session 9 – "Mental and Spiritual Readiness: cultivating best practices for chaplains, staff, and volunteers" – workshop facilitated by Rev. Stephen Cushing (NESM)
Conference Planning Committee: Dcn. Paul Rosenblum (Charleston), Rev. Mark Wodka (Canaveral), The Rev'd Judith Alltree (Mission to Seafarers – Canada), Pastor Marsh Drege (New York), Dcn. Joey De Leon (Seattle), Julia Cooper (Seattle), Rev. Mario Biazon (Norfolk), Dr. Jason Zuidema (NAMMA), Jennifer Koenig (NAMMA).