As a signatory to the Neptune Declaration on Seafarer Wellbeing, NAMMA supports all efforts to "recognize seafarers as key workers and give them priority access to Covid-19 vaccines." At this time, local seafarers' welfare organizations in ports around the world are facilitating vaccines for foreign seafarers. Where it is possible, seafarers are being taken to local pharmacies and local health providers, and in other places, there is also the possibility of health officials coming to the ship to vaccinate crew.
Shipping companies or agents might wish to find out more about vaccine availability in their local setting. Pharmacies and other health care providers have been ready to welcome foreign seafarers in certain ports, but there are differences on what i.d. is required and whether appointments are needed.
The following list is for purposes of compiling information only and is not intended to correct or replace any information given by local, state/province, or federal government agencies or any health care providers. Updates and questions can be addressed to Dr. Jason Zuidema, Executive Director, NAMMA executivedirector@namma.org.
A press release on this initiative is here at our news magazine, The MARE Report.
About NAMMA: With seafarers' welfare provider members in more than 50 ports around North America, NAMMA's mission is to support those in maritime ministry with professional development, fellowship, and advocacy. https://namma.org/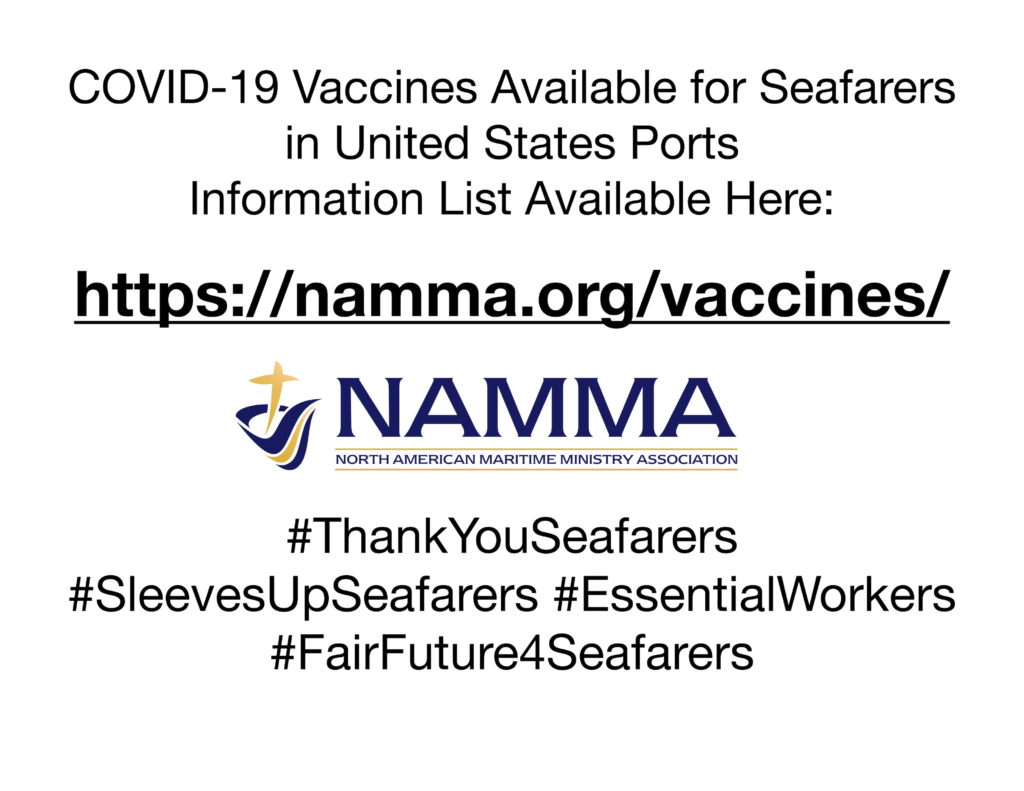 Thank you to our research and dissemination partners:
International Transport Workers Federation
Center for Mariner Advocacy of the Seamen's Church Institute of New York and New Jersey - Philip C. Schifflin, Jr., Esquire, Director